From now on, whenever someone looks up the definition of the word "persistence" in a dictionary, a photo of NHRA Funny Car drag racer Tommy Johnson Jr. should be alongside.
For 35 years, Johnson has sought to get a do-over of one of the toughest losses in his career, something that gnawed at him. It was back in 1984 at Bandimere Speedway in the Denver suburb of Morrison, Colorado, that a 15-year-old fresh-faced kid from Ottumwa, Iowa, reached the final round of the Super Gas category, but fell short of victory.
It was the first final round appearance (in any of the four classes he's raced in) in what would become a lengthy and successful drag racing career.
Still, no matter how hard he tried in all the subsequent appearances he made at Bandimere over the next 3 1/2 decades, Johnson could never avenge — nor forget — that first final round loss.
He would go on to reach the final round a total of four times over the ensuing years at Denver – including finishing runner-up in the 2017 Funny Car race there – but every time Johnson looked at his trophy case, a Bandimere winner's trophy was still missing.
Even if he had a road map, every time Johnson – who now lives in suburban Indianapolis – tried to go through four elimination rounds at every race at the mile-high drag strip, he wound up being detoured by faster opponents.
That is, until Sunday.
Johnson, who drives the aptly appropriate Make-A-Wish Funny Car, finally saw his own wish come true, capturing the Dodge Mile-High Nationals at Bandimere.
When Johnson climbed out of his Dodge Charger SRT Hellcat, 35 years of frustration, angst and disappointment was finally lifted off his shoulders.
With a face charged with emotion, Johnson had finally finished what he started and got his Rocky Mountain high in the process, you might say.
"Winning races is great, but winning the Dodge Mile-High Nationals, to me today, is my biggest victory ever," Johnson said. "Thirty-five years ago, in 1984 when I was a kid, I got runner-up.
"I got runner-up three more times in three different categories. I wanted to win this race so bad, and I did it in my Dodge Charger Hellcat today. I knew we had a great race car and if we could control it on the track with the sun being out, we'd be good.
"The team did a great job. We're so much of a better team than we have been in the past and we've really grown as a team."
Johnson defeated, in order, Jeff Diehl, Don Schumacher Racing teammate Jack Beckman and Cruz Pedregon in the first three elimination rounds Sunday.
Then, when it counted the most, Johnson (4.102 seconds at 308.50 mph) defeated Bob Tasca III (4.158 seconds at 302.14 mph) to take home the "Wally" winner's trophy (below) he had coveted for so long. Johnson is now 8-0 vs. Tasca in head-to-head round meetings over the years.
After recording a Denver career-best run (3.978 seconds at 317.72 mph) during Saturday's qualifying, Johnson and his team was locked, loaded and ready for victory on Sunday.
"It wasn't easy today, we had some close ones," Johnson said. "Beckman was right there, Tasca was right there in the final. We struggled on Friday (first two rounds of qualifying), like a lot of teams, and we felt pretty confident that Saturday (final two qualifying rounds) would be okay.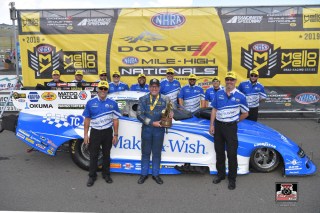 "We had a nice get-down-the-track run on Q3, but last night we made a great run (3.978 seconds, 317.72 mph), my quickest and fastest ever up on the mountain, and that gave John (Collins, crew chief), Rip (Reynolds, assistant crew chief) and the guys a ton of confidence.
"They did a great job. We're a much better team than we have been in the past and we've really grown as a team."
Not only was the win – his second of the 2019 season and 19th of his Funny Car career – personally gratifying, it also was pivotal in a big way for Johnson. He made a big jump upward in the NHRA Funny Car point standings, climbing to No. 2 in the rankings, now just 49 points behind points leader Robert Hight.
"This has been the best season ever, and I think we're just getting started," Johnson said.
NOTES:
Defending champion Steve Torrence won his eighth Top Fuel race of the season and tied legendary "Big Daddy" Don Garlits for No. 8 on the NHRA Top Fuel all-time national event wins list (35). Other winners were Greg Anderson in Pro Stock, who earned his first victory in a year, and Andrew Hines in Pro Stock Motorcycle.
16-time champion John Force has quietly been moving up in the Funny Car standings and leaves Denver in third place. The 70-year-old Force has yet to win this season, but he's definitely knocking on the door. When he finally knocks that door down, it will be yet another milestone in Force's illustrious legacy: the 150th Funny Car triumph of his career.
With 14 races of the 24-race NHRA Mello Yello Drag Racing Series schedule now in the books, four races remain before the start of the six-race Countdown to the Championship playoffs.
The second of the three-race "Western Swing" is this weekend (July 26-28), with the NHRA Sonoma Nationals at Sonoma Raceway, north of San Francisco.
Here are videos of the final winning rounds in Top Fuel, Pro Stock and Pro Stock Motorcycle: