STEAM CORNERS, Ohio – Josef Newgarden made a major error on the final lap of Sunday's Honda Indy 200 at Mid-Ohio and that mistake proved costly in his quest for the 2019 NTT IndyCar Series championship.
The Team Penske driver was set to finish fourth in Sunday's 90-lap contest when he saw an opening entering the Turn 2 area of the road course, known as the "Keyhole." Ryan Hunter-Reay's Honda was stacked up in pursuit of the lead two cars driven by the leader, Scott Dixon, and rookie driver Felix Rosenqvist.
Newgarden knew Dixon's lap times were falling off dramatically as his tire grip deteriorated and he believed he could win the race on the final lap.
Instead, Newgarden's Chevrolet banged into the side of Hunter-Reay's Honda, sending the 2017 IndyCar Series champion off course. The engine stalled, lost power and Newgarden's race was over.
"I'm not really sure what Josef (Newgarden) was thinking there doing that," Hunter-Reay said afterwards. "He tried to go around the outside, and the line through that corner is that you do a diamond and you come back to the apex, so he had to expect I was coming back at some point, and then just shoved his nose in there.
"I don't know, with the championship like that, leader, totally baffled me. I'm just glad it didn't cut down our right rear tire after fighting like that all day."
Dixon went on to win the race followed by Felix Rosenqvist, just 0.0934-of-a-second behind in one of the closest finishes in the history of the Mid-Ohio Sports Car Course.
Hunter-Reay finished third followed by Team Penske's Will Power and Alexander Rossi of Andretti Autosport fifth.
Newgarden finished 14th, the first car one lap down as his car was stranded off course. Add it all up and Newgarden's 29-point lead in the standings is now just 16 points over Rossi heading into a two-weekend break in the schedule.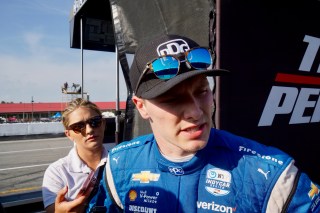 "It could have been a really good day and I just forced the issue on something that was real low reward; and high risk," Newgarden told NBC Sports.com after a lengthy consultation with his race engineer, Gavin Newsom. "You see what happened on the risk side of it. It ended up dropping us out of points.
"It was a silly error to make on a day where we could have had fourth-place points. It's a shame. We go on to the next one.
"It's always tough when you make an error."
Newgarden said he had a run on Hunter-Reay and that created an opportunity.
"I thought he was going to go a bit wider when I tried to brake on the outside, I tried the over-under, he didn't go as wide as I thought and he made contact," said Newgarden, who led 11 laps in the race. "I lost the engine. It was as simple as that.
"It wasn't wise. It wasn't wise for sure. It certainly hurts. It doesn't help."
Newgarden said he will re-set and move on to the next race. But that isn't until August 18 in the ABC Supply 500 at Pocono Raceway.
Newgarden is a racer and it's not in a racer's mentality to just "settle for fourth." He saw an opening and went for it.
"My instinct is always to go for it," Newgarden said. "It's not always the right instinct, but it is my natural instinct.
"Poor decision, probably. I was just trying to get on the podium. I just got inside of him, and lost power — it pushed me around and I lost power" on edge of track.
"I made a mistake. Don't do it again. That's all you tell yourself.
"We still have four races to go. Long journey."