An NTT IndyCar Series team owner will be honored at the Little League World Series on Thursday, but he happens to have one of the most famous names in baseball.
It's George Michael Steinbrenner, IV, the grandson of the legendary New York Yankees team owner and the son of current Yankees co-chairman and part owner Hank Steinbrenner. The 22-year-old Steinbrenner is co-owner of Harding Steinbrenner Racing in the NTT IndyCar Series, which features 19-year-old rookie driver Colton Herta.
Young Steinbrenner will throw the first pitch in the Little League Baseball® World Series on Thursday, August 15, at the Little League International Complex in South Williamsport, Pennsylvania. Steinbrenner is the son of New York Yankees part-owner and co-chairman Hank Steinbrenner and the grandson and namesake of legendary owner and businessman George Steinbrenner III.
"I am excited to throw out the first pitch of the Little League World Series game on behalf of Honda," said George Michael Steinbrenner IV. "Baseball is the core of my identity and the first love of my life, the other love being motor racing. This made the choice to attend the event a must for me as any time I can meld my two passions is something I cannot pass up."
As the Little League World Series kicks into high gear in Northeastern Pennsylvania, Steinbrenner's NTT IndyCar Series team will be competing at Pocono Raceway in the ABC Supply 500, 98 miles away from Williamsport.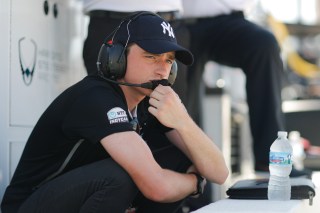 "I am thankful to Honda for not only supporting Harding Steinbrenner Racing and the NTT IndyCar Series, but also for sponsoring Little League, the world's greatest game in its most unadulterated form," Steinbrenner said. "I have watched the Little League World Series my entire life, and this will be my first time to Williamsport to see the event in person."
In his first NTT IndyCar Series season, Steinbrenner's impressive resume includes being the youngest winning-team owner in series history after winning the inaugural INDYCAR Classic in March. So far in the 2019 season, rookie driver Colton Herta and the team have one win, one pole starting position and five top-ten finishes.
The Little League Baseball World Series begins Thursday, August 15at 1:00 p.m. Eastern Time.
Practice for the ABC Supply 500 at Pocono Raceway will begin Saturday, August 17th on NBC Sports Gold. Qualifying will be live on NBC Sports at 12:30 p.m. ET on Saturday. Live race day coverage will be Sunday on NBC Sports from 2:00 p.m. – 6:00 p.m. ET.