LONG POND, Pennsylvania – It was midway through the season and with each passing race, Team Penske driver Will Power was falling farther back in the NTT IndyCar Series championship standings. It was shaping up to be one of the most disappointing seasons of his career and his first winless season since he was a Champ Car Series rookie in 2006.
When he became mired in fifth place and was well over 150 points out of the championship, the Team Penske driver from Toowoomba, Australia knew he had to shift his focus to winning again and forget about the championship.
That's exactly what he did in Sunday's ABC Supply 500 at Pocono Raceway.
"I just let go," Power said. "I just let go and said it's not going to happen for me this year.  Just whatever. I still did my homework.  We definitely had the car today, great strategy, great stops.  I feel like I worked harder for it this year than any other year and it just didn't work for me."
By letting go, Power was able to race with a clear mind at Pocono.
Despite the calamity of another massive crash at the start of the race for the season year in a row at the triangle-shaped speedway in Pennsylvania, Power's No. 12 Chevrolet was at its best when it mattered the most.
With a severe storm on the horizon, it became obvious the race would not make the full 200-lap, 500-mile distance. So, teams changed their strategy and for Power, he was comfortably in the lead by 5.4688 seconds over second-place finisher Scott Dixon when the race was Red Flagged for lightning after 128 laps.
Once it began to rain, the race was called official and Power kept his streak alive of 13 straight seasons with at least one victory.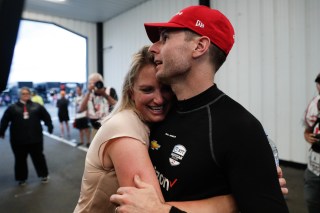 "It's a big relief," Power said. "It's just one of those years that hasn't flowed very well for me. I've been quick, I've been there. A few errors on my part, things not falling our way.
"I'm absolutely over the moon to finally win a race this season.The guys working on the car, they've worked their asses off this year. I've just had bad runs."
It was Power's third win at Pocono in the last four years. It was also the 36th career victory for the 2014 NTT IndyCar Series champion and winner of the 102nd Indianapolis 500 in 2018.
Power's strategy had him make five pit stops to race to big leads while drivers in positions 2-7 were playing the fuel savings game with only four pit stops.
"I was very determined today, especially knowing I had the car to do it," Power explained. "I sat back and saved fuel a lot. When I got shuffled back second or third stop with the yellow, we were able to move forward pretty quickly and get back to these guys.
"I got the car right. The car was very fast, as well. When my spotter said, the rain is coming, I just turned the fuel up and I went as fast as I could. Yeah, it was good, good day.
"As soon as the race started, I knew we had a good car. I knew we had a good car going in. We just made some adjustments, kind of had a lot of push. Obviously back in traffic there, I ended up trimming out a little bit at the end there.
"All the right moves."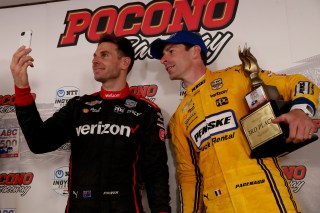 Power was in front for 31 laps. That was half of teammate Simon Pagenaud, who kept his No. 22 Chevrolet in front for 64 laps.
"Will was definitely extremely strong today," Dixon said after finishing second. "It was good to see him get another victory this season. Had we gone back out, even with headlights on, I think Will was going to take the race."
In the middle of July, Power was in the midst of a miserable season. He has been able to turn that around with a top-five finish at Mid-Ohio at the end of July and a win at Pocono in August.
It's far too late to challenge for the championship because there are only three races left. But there are certainly three more chances for Power to "get it right" and get a win.
"It turns around eventually," Power said. "If you keep performing and doing the work, eventually it turns around for you. You can't have bad luck all the time. It's not all bad luck, believe me. There's always a reason. It's rarely bad luck, honestly. Always put it down to something that wasn't done right.
"This sport has become so tough these days; you can't leave anything on the table in any way. If you do, you're simply not going to win."