Ryan Hunter-Reay was so dumbfounded that some thought he triggered the first-lap crash at Pocono on Sunday, the 2012 NTT IndyCar Series champion and 2014 Indianapolis 500 winner showed his own video to prove that the crash happened without his involvement.
Hunter-Reay used an NBC Sports video of the crash shot from Turn 2 that showed Sato and Alexander Rossi already crashing with Hunter-Reay's car in its own lane. He sent that video out on Twitter.
The Lap 1 crash was the second year in a row that the ABC Supply 500 at Pocono had to be stopped because of a massive crash at the start of the contest. Last year in the same portion of the track, Robert Wickens' car ran over the back of Hunter-Reay's and was launched into the fence. Wickens suffered serious injuries and remains paralyzed from the waist down.
This year, it was driver Felix Rosenqvist that ended up in the fence in the aftermath of the Sato incident that also included Alexander Rossi.
On Tuesday, Sato had released an onboard video shot from his Honda that showed his hands did not move on the steering wheel. That created a brief Twitter storm where some actually accused Hunter-Reay of initiating the contact.
The NBC Sports video clearly shows that he did not. But with three cars running three-abreast entering Turn 2 at Pocono Raceway, there was zero room for error.
"Takuma was third man in, he was the aggressor on that," Hunter-Reay told NBC Sports.com Wednesday. "I gave Alex plenty of room. I think from the time you exit Turn 1 as you are going into Turn 2, we take our natural line we take on any lap which is you exit up by the wall, come down to the left and then arc it back up to the right to set up for the corner.
"But as Takuma said in his interview immediately after the accident when you get the clearest, most unbiased response from drivers, he said he thought he was clear. He was coming down and it looked that way, too. Maybe his spotter told him he was clear, or he misjudged it and thought he was clear."
Hunter-Reay said steering wheel inputs do not indicate the movement of the car because steering loads are adjusted by each driver and crew. Also, an onboard camera shows a very narrow view, where the Turn 2 camera shows a much wider view of the entire field.
"You wouldn't even be able to see the hand movement and the car will move," Hunter-Reay said. "The angle from Turn 2 to Turn 1, the one that I posted, it shows everything. Alex and I at the time of the incident are driving straight, we aren't moving unpredictably or squeezing each other.
"Taku joined the party, he was the third man in, he came across Alex's nose because he thought he was clear.
"Like I said on my Tweet, I find it hard to believe people are actually debating this. It's unfortunate it happened; it's racing, and it was a misjudgment."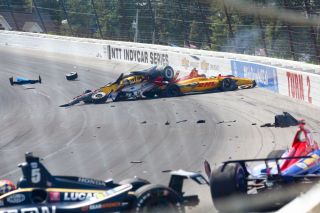 Hunter-Reay said there are some seams in the asphalt at Pocono that can grab a car's tires, but he believes Sato was trying to gradually get into Scott Dixon's draft, he thought he was clear, and tried to pull in front of Rossi, but Rossi's Honda was still there.
NBC Sports.com attempted to get an additional comment from Alexander Rossi, but he declined, saying he "is focused ahead on the race this weekend and the championship ahead and is not concerned about the incident any longer."
Sato and Hunter-Reay were teammates at Andretti Autosport in 2017 when Sato won the 101stIndianapolis 500. Hunter-Reay said the two drivers remain friends, but he wanted to clear up the misconception that Hunter-Reay somehow started the incident.
"You have to look at all angles to determine what happened," Hunter-Reay said. "It's a sensitive subject because it's Pocono. We have had some pretty big incidents there, and that doesn't have to do with Pocono or not.
"That's why this has had so much more focus on it."