Portland International Raceway is a track that favors champions.
With 25 previous NTT IndyCar Series events at the facility, the list of winners at P.I.R. is a "who's who" of American open-wheel racing.
Al Unser Jr, won the first race at Portland in 1984, and would win again in '94 and '95. Michael Andretti won three straight from 1990-93, and his father Mario won twice in 1985 and 1986. 
All-in-all, 20 of the previous 25 races at Portland were won by drivers who had previously won, or would go on to win an IndyCar championship in their career.
Over the years, Pacific Northwest race fans have been blessed with the opportunity to witness some incredibly talented drivers win at their home track, and Sebastien Bourdais is no exception.
When he first competed at P.I.R. in Champ Car from 2003 through 2007, Bourdais was a serious threat to win every year. In fact, Bourdais finished on the podium in all but one of his first five starts at Portland, with victories in 2004 and 2007.
Obviously, open-wheel racing has changed quite a lot since 2007. Drivers, teams and tracks have all come and gone. But Bourdais still remains a serious contender to chase victories whenever the series visits a natural-terrain road course, and if last year's return to Portland after an 11-year hiatus is any indication, Bourdais might be in for another great race this weekend. Naturally, he enters the penultimate round of the 2019 season with a lot of enthusiasm.
"The big surprise last year was that we qualified very well," Bourdais told NBC Sports. "It had been kind of a trend in '18 for us that we were very comfortable and competitive with our road course package, and we did it again at Portland, and that was not the most straight forward or easy qualifying session either."
Indeed, Bourdais' Saturday in Portland last year was anything but easy. After leading practice 1 on Friday morning, Bourdais took the top spot on the scoring pylon from Graham Rahal with minutes remaining in P3. But he then lost control of his car entering Turn 10 and spun before backing into the tire barrier, causing significant damage to his No. 18 Honda.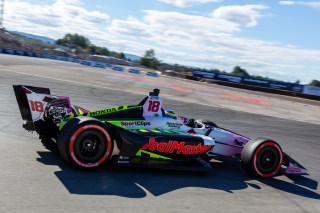 With qualifying just over three hours away, Bourdais' crew had to quickly scramble to put his car back together. Though Bourdais was intentionally scheduled to run a special purple and white livery that weekend, all of the replacement parts still sported the traditional black and yellow SealMaster colors.
The result was a multi-colored machine which fans referred to as "Frankenstein", and though not the most visually pleasing machine, Bourdais brought Frankenstein to life in qualifying by making the Firestone Fast Six en route to a fifth place qualifying run. Not too shabby for a car and driver who made contact with a tire barrier a few hours earlier.
"Obviously qualifying fifth after rebuilding the car and still displaying some good speed was very encouraging," Bourdais said. "I didn't go into the race with any bad feelings at all. I was actually quite excited."
But if Bourdais thought his wild weekend was over following qualifying, he would be quickly proven wrong. His No. 18 machine was caught up in the infamous first lap incident in Turn 3 of last year's race, and suffered front wing damage which resulted in a necessary pit stop.
"I thought we had a legit shot of finishing on the podium," Bourdais said. "Then the start didn't go really well and it seemed like all was lost."
But it wouldn't be. After exiting the pits, Bourdais returned to the track in the 21st position. However, the team changed their pit strategy and with the help of a few timely cautions, Bourdais slowly made his way back to the front. When the checkered flag flew, Bourdais finished third and found himself in a familiar position: back on the podium at P.I.R.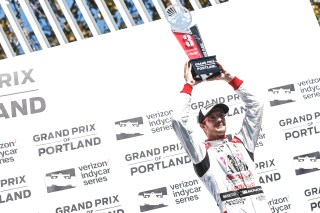 "It kind of came back to us at the end," Bourdais said. "It's just the typical IndyCar attitude you have to have, which is to never give up, because you never know what waits for you around the corner."
But if the wild weekend on-track was not enough to leave an impression on Bourdais, Portland's loyal fan base that returned to the track years later certainly did. Bourdais stated that Portland has always been a race he's looked forward to because of the passion displayed by local fans.
"You'd be surprised by the number of people who would see me at other events and ask 'when are you guys coming back to Portland?'," Bourdais said. "When it finally happened, they all showed up, and they showed up in big numbers. It was great. It was like we were never gone.
"It's just a great area and if it was not that far from Europe I would definitely have no problem with living there."
Live coverage of the Grand Prix of Portland begins Sunday, September 1 at 3 p.m. ET on NBC.
Follow Michael Eubanks on Twitter