PORTLAND, Oregon – Conor Daly, IndyCar's "Super Sub" is coming off the sidelines, once again, this time with Arrow Schmidt Peterson Motorsports.
Daly, who has split time this season between the Indianapolis 500 with Andretti Autosport and four races with Carlin. The 27-year-old from Noblesville, Indiana will take over the No. 7 Arrow Schmidt Peterson Motorsports ride that is normally driven by Sweden's Marcus Ericsson.
That driver returns to Formula One this weekend to compete in the Grand Prix of Belgium at Spa for Alfa Romeo, where he is the team's third driver.
Alfa Romeo, however, has denied that Ericsson will be in the driver's seat of one of its two cars this weekend at Spa.
Arrow Schmidt Peterson released a statement early Thursday morning that said, "Following a request from Alfa Romeo Racing for Marcus Ericsson to be on the ground at this weekend's Formula 1 Belgian Grand Prix, Arrow Schmidt Peterson Motorsports has granted Marcus a release from his driving duties for the NTT IndyCar Series race weekend in Portland. Conor Daly will pilot the No. 7 Arrow SPM Honda at this weekend's Grand Prix of Portland."
The battle for the 2019 NTT IndyCar Series championship heats up this weekend with the penultimate race of the season at Portland (Ore.) International Raceway in Portland, Ore., as NBC Sports presents coverage of the Grand Prix of Portland this Sunday at 3:30 p.m. ET on NBC. Pre-race coverage on NBC begins at 3 p.m. ET.
Daly is coming off his best race of the season in last Saturday night's Bommarito Automotive Group 500 at World Wide Technology Raceway at Gateway driving a Chevrolet for Carlin.
In that race, Daly started 18thand raced his way to as high as second place before finishing sixth.
"I'm super happy with our result tonight," Daly said afterwards. "The No. 59 Gallagher Carlin Chevrolet was so strong and consistent the entire night. We just kept fine-tuning it and making it even better every time we came into pit lane. Anytime we got in clean air we made progress and we were able to run people down.
"I really thought we were going to be on the podium tonight and that's really hard to take. The strategy game of INDYCAR is just crazy and we just got a little bit unlucky, but to be unlucky and finish sixth is pretty awesome. I'm thankful to close out this oval run with Carlin on such a high note and thankful to Gallagher for giving me a chance to show what I could do for their program with Carlin."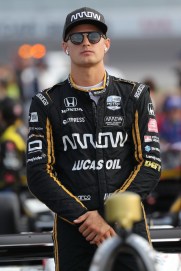 Ericsson, who has competed in 97 Formula One World Championship events, has had a challenging rookie season with Arrow SPM. He finished second in the second race of the Chevrolet Detroit Grand Prix, but after finishing 16that Gateway last Saturday night, he is 17thin the NTT IndyCar Series points.
His agent was in attendance at last weekend's race. Ericsson has shown flashes of potential in his initial IndyCar Series season and has said numerous times he wants to return to the series in 2020. His contract, however, is up at the end of this season.
Last month, McLaren announced it had reached an agreement with the current Arrow SPM team to become Arrow McLaren Racing SPM, a two-driver effort in the full NTT IndyCar Series. The team's other driver, James Hinchcliffe, remains under contract to that team for next season, but Ericsson's future in IndyCar remains uncertain.