PORTLAND, Oregon – With each victory in the NTT IndyCar Series, Will Power keeps climbing the ranks of the winningest drivers of all-time in the history of IndyCar racing.
His victory in Sunday's Grand Prix of Portland was his 37thcareer win, tying him with four-time Champ Car Series champion Sebastien Bourdais, who continues to race for Dale Coyne Racing with Vasser and Sullivan.
Two more victories will move the Team Penske driver into a fifth-place tie with the great four-time Indianapolis 500 winning driver Al Unser. Five more wins would tie him with Michael Andretti at 42 victories.
The top three winningest drivers ever are AJ Foyt with 67, Mario Andretti with 52 and Power's contemporary, Scott Dixon, with 46.
Foyt, Andretti and Unser were all part of what many believe to be IndyCar's "Greatest Generation" of drivers. That was the period that covered the 1960s and lasted through the early part of the 1990s.
Power is closing in on the top-five in career wins and that would put two drivers from today's era into the elite category of greatest drivers in IndyCar history.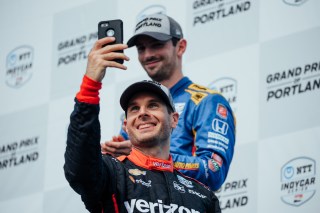 "You've got to look at this generation as one of those generations when you had AJ, Mario and the Unsers," Power responded to a question from NBC Sports.com. "With Dixon and I'm sure Alexander Rossi and Josef Newgarden, these guys are going to be around for a long time.
"That's going to be an era that kids look up to, like 'Wow, that was a great era of competitive IndyCar racing, probably the most competitive era ever.'
"I've been thinking that. You look at the field, the series, the teams now, it's just so cool to be a part of it right now, and it's growing, and the continuity of drivers, new teams coming in, it's fantastic."
When Power arrived in the United States at the end of the 2005 season, his first test for Walker Racing came at Portland International Raceway – the same road course he conquered on Sunday.
He ran the full season in 2006 and was pretty much known as the "Driver from Australia with the Funny Name."
Think about it – "Will Power?"
In 2007, he won two Champ Car Series races and finished fourth in the championship. Champ Car folded before the 2008 season and many of its teams joined the old Indy Racing League to create today's INDYCAR. Walker Racing was unable to make the jump, but Power found a ride at KV Racing Technology. He drove to victory at Long Beach that year.
Rival team owner Roger Penske liked what he saw from the driver from Toowoomba, Australia and with Helio Castroneves' availability uncertain in 2009 because of a tax evasion trial, Power was offered a fill-in ride with Team Penske. Castroneves was acquitted of all charges, but Penske kept Power on the team in a limited role. He won the race at Edmonton later that year.
He had a full-time ride at Team Penske in 2010 and won five races that season.
Power and Penske were on their way with one of the greatest combinations of driver and team during this decade.
And now, a strong case can be made that Power belongs on the list of greatest drivers of all-time along, joining Dixon from the current generation of racers.
In Power's case, however, he could have achieved more by now.
"I get very disappointed in my career because of some of the things I've let go," Power said after winning for the second time in the last three races. "I feel like I should have been champion more times (he won the championship in 2014). But it's something that you look at. After you win the Indianapolis 500, you're very satisfied with your career and that paves the way, and then the next year you're like, 'Man, I need to start winning races, again.' It's disappointing.
"Sometimes you can forget that you've had a great career.
"But it's a tough series. It's tough to win races, so any win you get, you're just over the moon. But any win I get at the moment and any pole I get, the pole is getting me closer to Mario's all-time record, and any win I get moves me up the all-time list, and I think you'd be lying if you don't look at that stuff at times.
"You don't think about it when you're driving, but I know Dixon would most definitely look at that stuff, too. He might say he doesn't."
To this day, Power has a hard time even imagining himself in the same category as the "Legends of Racing."
"Because you're up amongst drivers that you idolized as a child, as a kid, so it's just kind of surreal that you can put yourself up amongst names like Mario Andretti, AJ Foyt, Michael Andretti, the Unsers, these names that for me, people that always seemed above me because it's somebody you idolized as a kid," Power admitted. "It doesn't seem right to have your name amongst them, when you really idolized someone, even if you've reached the same level as them in your career.
"It still feels like they're above you, untouchable."