INDIANAPOLIS – Scratch Conor Daly's name off the list for a ride at Arrow McLaren Racing SP for next season, the driver told NBC Sports.com Wednesday at the Indianapolis Motor Speedway.
Daly was one of several NTT IndyCar Series drivers and team members that were at the Speedway for Wednesday's Aeroscreen test. Those tests were conducted by drivers Scott Dixon of Chip Ganassi Racing and Will Power of Team Penske.
Daly, Felix Rosenqvist, Jack Harvey, Tony Kanaan and 2019 NTT IndyCar Series champion Josef Newgarden along with numerous rival team engineers and personnel were interested onlookers at the Aeroscreen test.
"McLaren had some people on their list, and I did not end up being at the top of that list," Daly told NBC Sports.com "That's fine. It was good to at least be in that conversation and talk to Zak Brown and Gil de Ferran and Sam Schmidt. I have a lot of respect for all of those guys.
"In the end, I don't think the Portland situation helped. They wanted to see me race there for that team and in that car. That hurt the situation."
The "Portland Situation" was the first lap of the September 1 Grand Prix of Portland. Daly was driving the No. 7 Arrow Honda filling in for Marcus Ericsson, who had a Formula One commitment that weekend. McLaren became a partner of the operation in August and team officials were using Daly's race at Portland as a chance to evaluate him as a driver to join James Hinchcliffe on the Arrow McLaren team in 2020.
Daly's dream ride, however, didn't make it through Turn 1. He was one of several drivers involved in a first lap, first-turn crash. The others included Hinchcliffe, Graham Rahal and Zach Veach.
Rahal accepted responsibility for causing the crash, but the residual effect on Daly's audition led McLaren to consider other drivers.
"It's a huge letdown when you start up front and crash early in the race," Daly said. "It came up multiple times in conversation, where they say, 'We would have liked to have seen what you could have done in Portland.' That has come up.
"All I can do is what I can do, and I did what I can do, and it was out of my control what happened there. It is a shame, but it played a big factor in what happens in the future."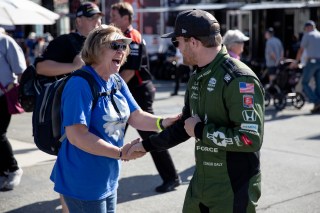 So, what is next for the popular driver who is a fan favorite but never seems to find a full-time ride in the NTT IndyCar Series?
"That's a great question," Daly said. "I really don't know. We are working away at everything. There really aren't many seats left for a full-time ride. Rahal Letterman Lanigan doesn't look like they have anything. I have some help with the Air Force, but there needs to be some other pieces there to make that happen and it doesn't look like they have those pieces.
"I don't think McLaren is where I'm going to be at. They are going to go a different way. It was cool to be in the talks of being there.
"Other than that, I'm trying to see what else is out there and what might work. There are potential opportunities there, but it's super early.
"At least I know where I'm not going to be.
"I'm always on people's lists, but I never seem to be the top person on that list. I'm going to keep working on trying to be on the top of that list at some point. In McLaren's situation, they know what they have and want to pick the people they want."
Daly has some funding from the United States Air Force. The military recruitment sponsorship funded his effort at Andretti Autosport in the 103rd Indianapolis 500 and at the season's final race in the Firestone Grand Prix of Monterey on September 22.
Daly probably has enough sponsorship for a half-season.
"I would like to think I could fund a half-season, but that's not enough," Daly said. "You have to hunt for more or find the best position now and wait for a ton of driver's contracts to come up next year. Things change. You don't want to wait until 2021 because you need to be racing all that you can.
"Andretti is full for next year. There are still things on the table. I can't really say what they are. We are not out of the fight, that's for sure. It's too early."