In addition to being one of the most accomplished race drivers in the NTT IndyCar Series with four-straight Champ Car Series championships and 37 career IndyCar wins, Sebastien Bourdais has also driven a variety of Sports Cars.
That is why his input in the final aeroscreen test for INDYCAR this past Tuesday at Sebring International Raceway was important. Bourdais is one of the most outspoken drivers in racing and often gives a straight answer, whether it's what others want to hear or not.
After spending all day on the track in the No. 18 Honda that was partially enclosed by the aeroscreen, Bourdais was highly impressed with the shape and design of the safety device.
"In a good configuration without rain or anything, it's going to be a 'no brainer' to run it," Bourdais told NBC Sports.com after the test. "It's fairly easy and seamless.
"It's pretty well done and there are no major issues with it. I've driven plenty of GT's and Prototypes in Sports Car racing that had way worse visibility because of extreme distortion or tear-offs that were applied with a lot of bubbles. Visibility was actually quite a pleasant surprise. It's better than almost every other screen I have driven with. With the curvature and everything, that's quite an accomplishment because it has a lot of curvature in it."
It was Bourdais' first time in any aeroscreen test, including the previous windscreen tests from 2018.
Tuesday's test was conducted under high heat and very humid conditions. That was a perfect opportunity for INDYCAR to study and analyze the cooling and airflow ducts for the driver in the cockpit.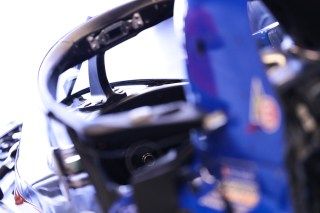 "It felt fine," Bourdais said. "There are different cooling configurations. Some that make it pretty hard to bear the heat and some that make it manageable. Visibility is fine, there is no significant distortion that impairs the vision.
"The tools are there and they have a pretty good idea what to do with cooling. They might have a different configuration for superspeedways because the airflow is so strong, but you may need more airflow into the cockpit for street course and road courses. I think they have a pretty good idea what to do."
There is a bit of a different technique getting in and out of the Indy car because the aeroscreen is higher than the previous open cockpit.
"It's a two-stage thing where you get your hands and arms over the headrest on the way out, then over the Halo structure," Bourdais said. "You don't get out at once; you get out in two steps. But it won't take long to get used to it."
Bourdais has been in racing for three decades and has had friends and fellow competitors injured, even a few have lost their lives. That is the aeroscreen is necessary to help protect the competitors.
"INDYCAR has been pretty instrumental in pursuing the aeroscreen concept and they wanted something more than the halo," Bourdais said. "They were concerned the halo could still deflect debris that can hit a driver in the helmet. They wanted to do more than just the halo. It has taken quite a bit of time, but they have succeeded.
"This is quite an investment."
As for getting back in the race car, Bourdais was glad to "dust off the cobwebs."
"It's always good to stay sharp and be in the car and drive," Bourdais said. "That's why we're race car drivers. We don't do very good sitting at home. It's always good to be behind the wheel.
"I'm very happy we got to try the aeroscreen and it's a success. The car is a bit heavier but not dramatic, either."
Bourdais shared the driving duties on Tuesday with his teammate from 2019, Santino Ferrucci. Team owner Dale Coyne is confident he will re-sign Ferrucci for 2020 and has also expressed interest in considering a third car for popular Canadian driver James Hinchcliffe when he lost his ride at Arrow McLaren Racing SP.
"I would love that," Bourdais said. "James is a good friend and I really feel for him. You can't help but put yourself in his shoes. I've been fired in Formula One and been thrown to the fire and the dogs in the media before it ever became official. That's very disrespectful and difficult to deal with.
"I feel for him and would very much welcome him. Anybody would welcome James as a teammate because he is such a cool guy and has a lot of experience. Money is a key factor in racing and if Dale can do that, I would welcome that, for sure."