McLaren Sporting Director Gil De Ferran left Sebring International Raceway last Tuesday with a much happier outlook than when he left the Indianapolis Motor Speedway on May 19.
That was when McLaren and famed two-time Formula One World Champion Fernando Alonso arrived at the Indianapolis Motor Speedway ill-prepared. They failed to make the 33-car starting lineup for the 103rd Indianapolis 500.
That day in May, De Ferran vowed that McLaren would return.
Last Tuesday, what is now known as Arrow McLaren Racing SP after purchasing into Schmidt Peterson Motorsports, De Ferran was back to evaluate the team's NTT IndyCar Series effort.
Instead of Alonso in the cockpit, it was the team's recently named full-time drivers for 2020 at the test. That included 20-year-old Pato O'Ward of Monterrey, Mexico, the 2018 Indy Lights champion and 22-year-old Oliver Askew of Jupiter, Florida, the 2019 Indy Lights champion.
O'Ward was in the car for the test with Askew watching from the pit area.
"Pato did a great job, did not put a foot wrong, got on to it straight away and it was all good," De Ferran told NBC Sports.com. "It was a positive day on all fronts. To work together, to build the team together and embark on this team together was very positive."
De Ferran is a two-time CART champion with titles in 2000 and 2001 when he was with Team Penske. He also won the 2003 Indianapolis 500 for Team Penske before retiring as a driver at the end of that season.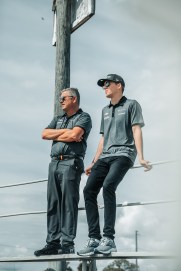 Since then, he has been involved in numerous Formula One, IndyCar and Sports Car efforts. As McLaren's Sporting Director, De Ferran is involved in both Formula One and IndyCar.
Arrow McLaren Racing SP also includes partners Sam Schmidt and Ric Peterson. Arrow also has a financial stake in the team in addition to serving as sponsor.
The chance to work with two young drivers is something that has De Ferran excited.
"They are both very young, but they have been around for a while," De Ferran said. "It's not like these guys are completely clueless about racing. They have been racing ever since they were kids. Generally speaking, as a trend in motorsports, they start much younger than I did. They move to cars at a younger age and tend to reach this level of the sport at a younger age then when I was coming up.
"Although they don't have a lot of experience in IndyCar, several members of the team can help in their development. These guys are very accomplished and top-level guys. They have won a lot of races and championships before getting the nod from our team."
Last week's test was part of INDYCAR's evaluation of the new aeroscreen that will be on all cars beginning in 2020. Arrow McLaren Racing SP is a Chevrolet team. Honda team Dale Coyne Racing with Vasser and Sullivan also participated in the test with four-time Champ Car Series champion Sebastien Bourdais as the driver.
This was the only test that Arrow McLaren Racing SP will conduct in 2019. Testing time is severely limited De Ferran said it won't be back on track until the 2020 regulations take effect.
Arrow McLaren Racing SP has already experienced some controversy after the team said several weeks ago that popular driver James Hinchcliffe would not be driving for the team. He remains on the payroll and is expected to be at the track in a public relations capacity.
That has angered many IndyCar fans who are huge fans of the popular Canadian driver.
"I have nothing more to add to this than what was said at the time," De Ferran told NBC Sports.com. "As far as I'm concerned, it's head-down. We have to go racing. We are on a journey here together with this partnership and two young drivers that are very accomplished and have a lot of talent. Our job is to deliver the results on the track.
"That is where my focus is. I'm completely focused on improving every aspect of everything that we do trackside.
"One thing I guarantee you, whatever we start, to have that focus to improve everything that we do we will continue to move forward. It was like that when I was driving, and it was like that throughout my professional career away from the cockpit. We will keep looking for opportunities to improve.
"Eventually, good things will happen."
It was just Day One on the track, but after seeing this team struggle at last year's Indianapolis 500, McLaren took its first step in returning as a full-time NTT IndyCar Series team.
"This is the beginning of a journey that we embarked on several months ago now and you do a lot in the background," De Ferran said. "The guys from SPM and us have put a lot into this partnership. Behind the scenes, we have been working hard together.
"We're all racers, man. We want to see cars on track. This has been like a little check off the box and it feels good that we were on track.
"We have a long journey ahead, but it's good to be working together, at the race track, how the car is handling, the engine is working and how the drivers do.
"First day on the track for Arrow McLaren Racing SP. It's a good day."