Aaron Telitz's racing career has always been a little bit unconventional and outside-the-box. The free thinking native of Birchwood, Wis. now living in Minnesota is a rare mid-20-year-old veteran (he turns 26 in December) on the Mazda Road to Indy presented by Cooper Tires ladder, works at a golf course and knits when he's not driving, has family ties to the Boston Red Sox and the birth of the national anthem at sporting events, and is an avid Star Wars fanatic.
But the 2016 Pro Mazda Championship Presented by Cooper Tires champion and two-time race winner in his maiden season of Indy Lights Presented by Cooper Tires competition this year opted to pay it forward in another unconventional but smart way: giving back to the environment with a self-imposed carbon fee.
An idea was developed between Telitz and Wisconsin Citizen's Climate Lobby chapter leader Dan Herscher, that would see Telitz keep track of the fuel and tires used throughout a season at Belardi Auto Racing (roughly 60 sets of tires) and pay the fee depending on how much used to offset the emissions.
The results, and the ultimate low cost, were staggering.
By the CCL base number of $15 per ton of CO2 emissions, the fee imposed for the year was only $224, which covered 10 weekends and 16 races.
Telitz released the study in partnership with CCL about a month after the season ended and explained to NBC Sports how important this initiative was.
"We'd chatted about different ways to help combat climate change and lower emissions," Telitz told NBC Sports. "Citizen's Climate Lobby's main mission … puts a price on carbon.
"So we thought it would be a fun and good way to show how much this would actually cost, contrary to beliefs this would be a 'bad idea' or would 'price people way out of their price range.' I'd donate whatever fee was based on emissions from on-track activity to donate to Citizen's Climate Lobby.
"We used that number, and it only came out to $224. That kind of goes to show you in Indy Lights, where budgets are $1 million or more, $224 for an on-track carbon fee isn't much."
Herscher added how surprised he was the number was as low as it was.
"The coolest thing for me was when we added it all up, all the fuel and tires, I was bracing for it to be over $1000. It was just over $200," Herscher told NBC Sports. "That was an amazing result, so putting a carbon fee in place isn't going to break the bank.
"Taking that result and having this experiment work, means doing well for the environment won't kill everything. We couldn't quite do the dividends part. But if we did this nationwide, yeah prices would go up a little bit, but the dividends check would come back. It's not as scary as most people assume."
Further information about the carbon fee and dividend is linked here, via CCL's website.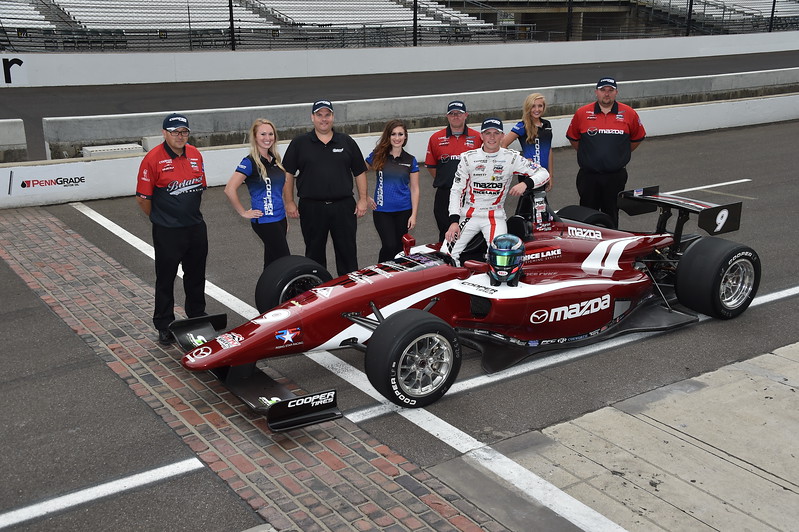 The amount of fuel and tire usage per weekend didn't vary too much, Telitz said. A big oval will naturally use more fuel than a road or street course given the long straights, but it's offset by lower stress and usage of tires. And as Indy Lights races are no-stop sprints with only one fuel tank and set of tires used in a race, if you're using more than that in a day, it's not been a good day.
Inspiration from Stefan Wilson's solar energy push within racing was part of the reason for this new event, Herscher said.
"When Aaron and I talked about ideas, we talked with Stefan given he's done a lot with solar," he said. "Here, we wanted to draw attention to the what the carbon fee and dividend could be as far as a nationwide policy."
Essentially the goal here is to illustrate how much could be saved by trying to avoid as much fossil fuel usage as possible down the road by giving back, and adding more cost to companies which produce too many CO2 emissions. As Herscher explained, the way CO2 emissions are emanating into the atmosphere, it's as if the Earth is being treated as a natural garbage dump.
"One thing Aaron and I talked about is the rationale for a carbon fee," Herscher said. "You don't to get to throw your garbage anywhere; not on the side of the road for instance. That costs someone else money.
"But we treat the atmosphere like an open dump, and pretending like it doesn't have a cost. The price doesn't include damage to environment. That's the point of the carbon fee, is to factor that cost into everyone's decisions when they buy things."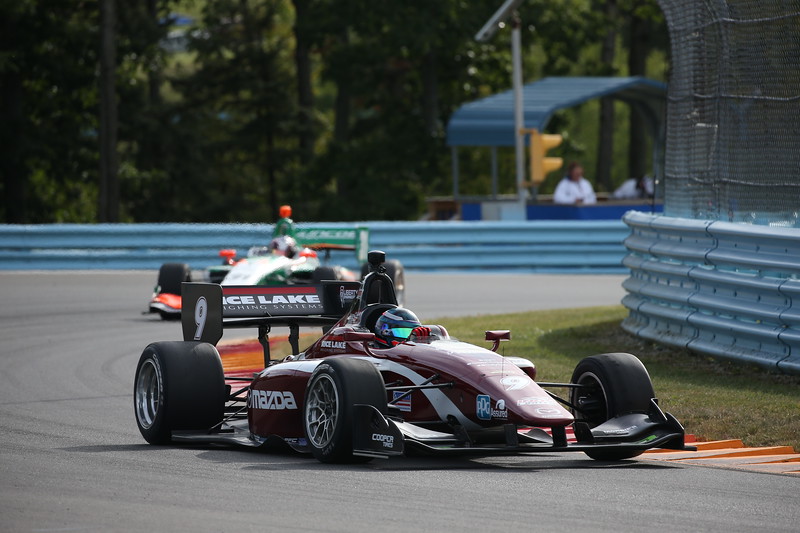 Telitz said raising awareness was a big key of the yearlong project, and he's also received inquiries from other racing teams about doing something similar and donating to another outlet – it does not have to be the Citizen's Climate Lobby.
"You have to look up what a carbon fee and dividend would do," Telitz said. "Hopefully politicians will say, 'Hey, this is a good idea.' It's a great way to get energy companies to get away from using fossil fuels. So this will hit coal, natural gas, and carbon-emitting fuels. And so it'll get them in the direction of using renewable fuel sources."
With some forms of racing having already explored alternative fuel forms, namely ethanol blends, hybrid technology, electric technology, or even hydrogen-powered technology, it's apparent fossil fuels won't be around forever to power racing cars.
And for Telitz, who is working on securing a return to Indy Lights for a sophomore season after staying fresh with both Pro Mazda and USF2000 testing at last month's Chris Griffis Memorial Mazda Road to Indy Test, getting ahead of the curve here is key to furthering his own career while giving back a little bit to the environment as a result.
"For me to be an advocate, you have to put your money where your mouth is," he said. "I'm driving a racecar operating on high-powered fuel. There's a place for racing even in a world while we're trying to erase CO2 emissions.
"So racing isn't going to cost that much in terms of if you pay for the carbon fee. That should take the fear out of it.
"Racing will always be there. We've raced horses for years, and then as the joke goes, from the time there was the first car, there was the second, and so there goes car racing. This is a way to show racing will exist in a way beyond fossil fuels going away."