Editor's note: Sage Karam, a past champion in both the Indy Lights Presented by Cooper Tires and Cooper Tires USF2000 Championship Powered by Mazda series who finished ninth in his first Indianapolis 500 with DRR in 2014 at age 19, will file a series of blogs for NBCSports.com this month. Here's his first entry, filed after a weekend in the commentary booth and before today's first full day of practice. He'll run the No. 24 Gas Monkey Energy Chevrolet for Dreyer & Reinbold – Kingdom Racing. 
—
Hi everyone, this is Sage Karam from the Indianapolis Motor Speedway, the "greatest race track in the world."
It feels so good to come back for the 100th running of the Indianapolis 500. The atmosphere around IMS this year is off the charts, dripping with excitement for the 100th race. The fans are very fired up, as is shown by every reserved seat being sold for the May 29 "Greatest Spectacle in Racing."
I know the drivers, teams and sponsors are extremely excited for this month too.
I'll be driving the No. 24 Gas Monkey Energy Chevrolet for the Dreyer & Reinbold – Kingdom Racing team from right here in Indianapolis. Dennis Reinbold's family has been involved in the Indy 500 since 1927 when his grandfather, Floyd "Pop" Dreyer, was a mechanic on the Duesenberg. Now that is some history at IMS.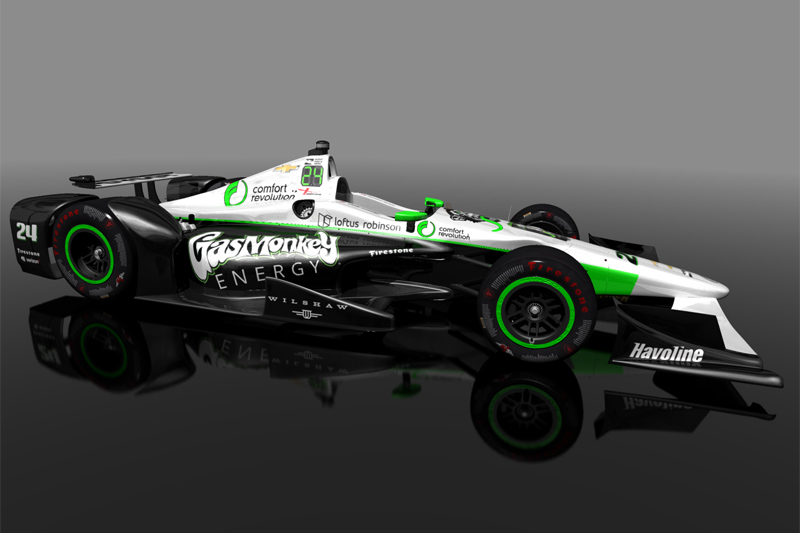 This will be my third time in the Indy 500 and, at age 21, I'll be the youngest driver in the 33-driver field for this 200-lap classic. It's such a thrill to back to Indy each year. It's the biggest race in the world, and I want to continue racing at this great track for many years to come.
In my rookie race (2014), I drove for the same team as this year; the DRR-Kingdom team is very experienced at Indy. In that first race, I started 31st and drove up to sixth in the middle of the race. I was definitely a rookie, but I tried to be smooth; all the while, the crew kept talking to me about being patient.
Unfortunately, we got caught out on a yellow flag period and we were slotted back to 24th. But we fought our way back up to ninth at the checkered flag. It was a good rookie performance and I won the "Hard Charger Award" that year.
Last year, it was a very short race for me with Chip Ganassi Racing. I was hit in the first turn on the first lap and was out of the race. It was very frustrating after spending all month preparing for the 500-mile race.
Now, I'm back with the crew from my rookie performance, and I know these guys very well. So it's like I've come back home and am ready to perform on May 29.
I think I can win, and there are no doubters on this team. It's possible the 500 will be my only IndyCar race this year, so I want to make the most of this opportunity.
Last year, I learned so much with the Ganassi squad and working with three-time Indy 500 champion Dario Franchitti. Dario helped me take some big steps, inside and outside of the car.
You learn about how to make time for all your obligations, such as media, training, studying videotape and working in the engineering office. When things got tough, Dario would talk to me about his first year in the sport – he had some tough times as well – and offered me life-lessons about driving, racing and the world.
I can't thank Dario enough for the guidance last year. I still think about what Dario told me last year. In 2015, I ran 12 IndyCar races and it was a steep learning curve.
But I believe I have matured a great deal from the 2015 season, and I'm ready to put in a solid two weeks before the 100th Indy 500.
In fact, in the winter, I moved from Indianapolis back to my hometown, Nazareth, Pa. Yes, the same as the Andrettis. My father, Jody, was Michael's trainer when Michael drove in Indy cars and I got the racing bug at age 4 in go-kartings from the Andrettis.
This winter I trained with my dad, and assisted him with his high school wrestling team. In fact, we had a state champion for the first time at the high school. So we are very proud of that fact.
I'm at my best when I train with my dad, and I wanted to get back to that situation. When I was living in Indianapolis I didn't know many people, didn't do so much off-the-track, and eventually got bored with the solitude. Now, I'm returning to the Indy 500 in the best shape of my life (at 163 pounds).
I hope to have a strong and productive week of practice at Indy and prepare for this weekend's qualifications. The goal is to be in the top nine on Saturday and then run for the pole on Sunday.
I'm so excited to be back at Indy. And I'm thankful for the opportunity and chance this team has given me to make it happen.
Follow @SageKaram
Follow @DRRindycar
Follow @GasMonkeyGarage